Dr. Jerm - Helping YOU Achieve Excellence In Life.
Hi, I'm Jeremy N. Johnson, your coach in excellence since 2008. Interested in a life of excellence? Read, watch, and lets connect!
Contact Me
.
The following is an article from the website, ZenHabits. Leo Babauta has been kind enough to release his information from copyright. As such, I am displaying his wonderful content here for you to enjoy. Please take a moment and read his words of wisdom.
Navigate to a new article:
Blog Action Day Reminder, Plus the Little Book of Productivity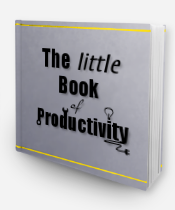 Just wanted to remind everyone who is participating in Blog Action Day that it's tomorrow (Oct. 15) … or actually today for anyone in my part of the globe. Don't forget to write your Blog Action Day post!
For those who are unaware, Blog Action Day is one day a year (Oct. 15) when thousands of bloggers talk about one topic. Last year it was the environment, and this year it's poverty. One day a year when bloggers unite to change the conversation. It's a project started by Collis and Cyan Ta'eed, myself and a few other great people.
If you haven't signed up yet, it's not too late — join in the action and make a difference!
Also see: 88 Ways to DO Something About Poverty Right Now
Little Book of Productivity
On another note … recently I shared with you guys a book I thought was pretty useful — Learn More, Study Less. It's an ebook by blogger Scott Young on learning techniques that will help you learn things in a smarter way, without rote memorization.
Today I'd like to share with you a bundled deal that Scott is offering: another of his ebooks, The Little Book of Productivity, bundled together with Learn More, Study Less, for a 50% discount. The two books together are being offered for $24.95 (50% of the normal price of both books combined).
Preview the two books here:
The Little Book of Productivity is a great resource full of tips and methods for beating procrastination, becoming more efficient with your time, and focusing on important work. The contents:
Beating Procrastination
Becoming Organize
Staying Energized
Getting Things Finished
Automate Your Routine
Productivity Hacks
Doing the Right Work
Get the two books in a combined 50% off deal here (this is an affiliate link).
Art of Manliness Man Cookbook
While I'm sharing ebooks, here's a free ebook I'm pretty sure many of you will like:
The Art of Manliness Man Cookbook
It's from one of my favorite blogs (AoM) and it compiles some of the best recipes from the blog's readers.
6 Books to Knock Your Socks Off
And lastly, a book list from your favorite simplicity blogger (that's me):